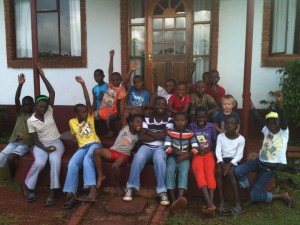 In the business of pastoral ministry, how many pastors invest time in child evangelism? Probably, the majority of pastors would count on their Sunday School and children's ministries to evangelize their children. After all, most churches have numerous services, programs, and members to care for, and the pastor and elders could not take first hand concern for every category of ministry. Nor should they since Ephesians 4 directs the leaders to equip the members to take active roles in the life of the church.
Yet possibly pastors should think about children more than they do. Consider that John Newton taught children in his church. Though he was a well-known pastor, he made time weekly at least for several years to instruct the young ones in his church. Isaac Watts wrote a book of hymns, a book of prayers, and a catechism all for children. Each of these gained a wide circulation, but they were originally written for the members of the church. No one could argue that Spurgeon had a light administrative load, yet he too wrote and edited a catechism for his church's use.
It is common to hear people refer to children as the easiest mission field to reach since their natural state receives instruction more readily before they have been calloused by years. This is true, but many times children grow up and leave the faith raising questions about whether an adequate foundation was laid when they were still saplings. Of course, the church can place the responsibility squarely on the parents where it belongs, but do all the children have Christian parents? Even for those who do (like my children), I want them to receive as much clear, accurate, persuasive instruction about the gospel as can be mustered between church and home.
In January 2014, owing to the example of four different African men in four different villages (all graduates of our college) as well as a comment by John Piper in one his annual biographies, I began a weekly children's evangelism class in our village. For the first 7 weeks we have averaged about 15 children from 6-13 years old who come for about 45 minutes of Scripture memory and catechisms. Last week I drew the picture below (which is becoming a favorite evangelistic tool) and 4 of them responded thoughtfully that they were at position 2, near conversion.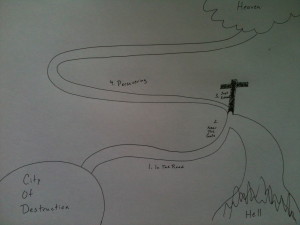 In the context of a churchplant, child evangelism provides a plethora of seeds that can grow into future trees. Furthermore, if the church is being planted among a poorer culture, it may be a long term project taking a decade or more in which time 12 year olds can become young adults. My experience has been that so few adults have been interested, that children are our best hope for a Bible-centered church.
Pastors who involve themselves in children's evangelism may also find the blessing of humility since it is not a very prestigious position to instruct the youngest. Those who are in authority in the church must be clothed with humility, and most of us need every tool possible to reap a good crop of that fruit of the Spirit.
Finally, as in the case of the three men referenced earlier, pastors are usually the most skilled members of the congregation in theology and evangelism. Is your church's curriculum and method strong in presenting the doctrinal glory of Christianity? Does it ground the children in the gospel or in the bare facts of the Old Testament?
The Baptists are right regarding the mode and subjects of baptism. Yet the paedobaptists have taught me one thing: When we evangelize our children, let us use long term methods that are saturated with doctrine so that the little ones will be grounded in the gospel without being either unduly coerced into superficial professions.