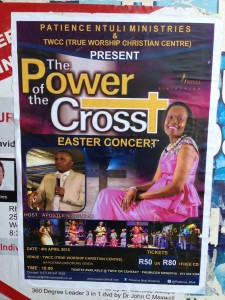 The worst of American revivalism and the worst of African showmanship all for the shockingly low price of R50.Notice the art: Heavy make up for an African Tammy Baker, flashy dresses, Tsonga dancing, the dynamic "man of God," and the stretched out "t" which is supposed to be a cleverly designed, and eye-catching cross.
Isn't the cross an instrument of death where our Lord was made a curse for us, a reminder that we too must kill our own desires in order to follow Christ? Are the off-the-shoulder dresses an accident of the costume department that won't even be noticed by the young men? Are the three pictures of Tsonga women dancing supposed to make us think about our sin and Christ's conquering of Satan? Will the Apostle Mudau be one of the men whose names are written on the foundation of the New Jerusalem, or does he just love the sound of a three syllable title more so than the mere two syllable "pastor"?
Maybe the church of 2015 is led by a lady named fun, but you can't find her or her dazzling sisters, entertaintment and glamor in the book of Acts. This flier isn't as explicit as others I've seen, but the message is still there: Give us money, and we'll give you entertainment.
This is the great revival that is sweeping Africa, but it has nothing to do with the revival that swept Jerusalem when Peter preached.