A special joy known only to those who love the church of God rests on th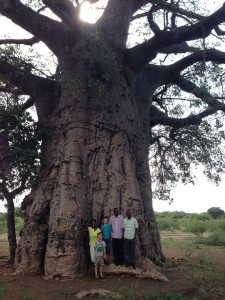 e birth of a new assembly of believers. After years of evangelism and preaching, the Whunga Baptist Church was officially formed on Sunday, 20 March 2016. On that weekend, Alpheus Nyalungu and I arrived in Whunga, Zimbabwe in order to lend our support and approval to the two men who are laboring to evangelize there.
Though the village is only 250 kilometers from us in South Africa, Saturday's trip—including the border crossing—took 10 hours. The return trip on Monday was a breezy, 5-hour jaunt. We were only stopped by police and roadblocks once, though we were warned to beware of more interaction from the public protectors. On our return we were so pleased at the speed with which they were processing us at the border crossing that the official took our happiness for mockery and along with a scowl held up a hand-written sign that said, "beware touts".
The village of Whunga is positioned about 50 k's off a major asphalt road in Zimbabwe in a hot and usually dry region. This last year was especially bad for crops, but one benefit of the arid condition is the absence of mosquitoes. Whunga and the villages around it have no electricity, running water, police, or health services, but thankfully, cell phone signals have spread their growing webs there.
Saturday night we slept in Zezani in Jastone Sebola's copy shop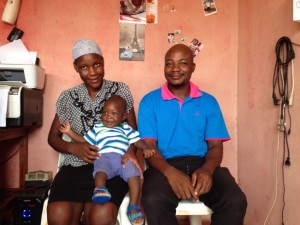 where he makes a living for himself and his brother by making photo copies and other printing requests. Solar panels and batteries power the machines. Jastone is the twin brother of Justice, both of whom graduated from Limpopo Bible Institute in 2010. The day before he had waited all day on the side of a little road waiting for our vehicle to pass by, and when we did pass the place he had been for many hours, we were just in time to see a hyena enjoying some road kill.
Jastone left a good-paying job in Johannesburg, South Africa at his brother's request to help him plant the church in Whunga. What is his role in the church plant? He pays the bills for both families while his brother invests heavily in evangelism and preaching. Sunday morning we drove from Jastone's house in Zezani the 18 k's to Whunga which prompted me to ask how Jastone and his family get to church each week when they don't have access to a vehicle. I was amazed to hear of two hurdles they overcome in order to ride in a taxi over those bumpy roads. First, they pay $8 every Sunday for taxi fare—a significant fee, and second, they step into the minivan at 3 am Sunday morning only to return from church at 5 pm. When they get off the taxi in their brother's village, they walk, with an infant 3 kilometers, and then sleep at his house until 8 am. The service starts at 10 am, and they have only missed two services in the past two years.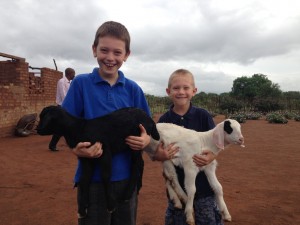 As we drove the road to the village Sunday morning, the rains that had not come that year suddenly fell. The flash flood spawned tributaries and streams that crossed and re-crossed the road. Suddenly sections of the road had become rushing paths for the drainage water. I think many Americans who pay money for 4×4's would also pay money to experience driving them through such conditions. Caleb and Colin whooped with excitement as we passed through impromptu rivers leaving other vehicles stranded for several hours until the water drained away. At one point, a river had so eroded the way we turned into the bush and made a path through mud, grass, and scraggly thorn trees.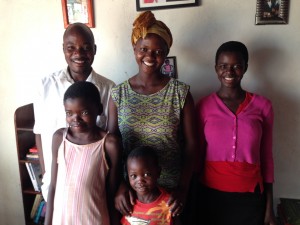 Jastone's twin, Justice and his wife Lisa stay in the village of Whunga at which we joyfully arrived through the rain. The large fields he had plowed with a donkey lost nearly all their crops this year due to the drought, yet now they were saturated. He was busy with an addition to his house made from bricks that he formed from the mud and cooked until they were rock hard. I was impressed with how straight the walls were.
This young couple ushered us into their two-room house where I had a pleasing vision of his solid library which included a number of Banner of Truth books. Many of those books were supplied by the African Pastors Conference ministry. Martyn Lloyd-Jones once said, "the type of theology you hold will decide whether you are a reader or whether you are not." We rejoice that these two men take the Bible and its truth s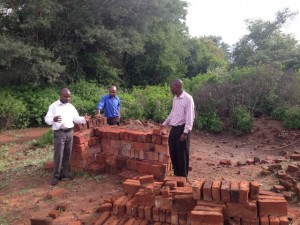 o seriously that they want to understand it all. In the afternoon, Justice led a discussion which eventually went about two hours in length over the love of God as seen in the cross.
A path about two kilometers long reaches the school building where the believers meet. They had a simple guitar that Justice had learned to tune by ear. Along with some chords he learned while at LBI, they sang several hymns in Venda during the service. Probably, owing to the rain about 4-5 regular attenders did not come, but there were 7 adults, 7 teenagers, and a number of children.
Alpheus, my friend from Elim Baptist in South Africa, preached the morning sermon in Venda on the hatred that a true Christian has for sin. Then we began hearing testimonies from the 9 who were prepared to be baptized that day. One man g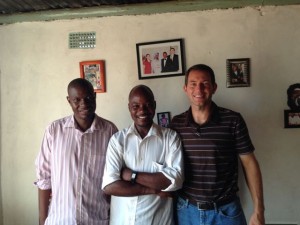 ave his testimony, but since he was not clear on the gospel, we asked him if we as prepared to persevere until we could see that he was a true believer. He seemed to be content saying time will help him understand. This man, Mr. Moyo joined us for lunch and listened to the Christ-centered conversation.
Jastone had translated and printed the church covenant of Elim Baptist to be used as the covenant for the believers in Whunga, and they all agreed to bind themselves as true Christians. Before heading to the river, we invited those who had been accepted for baptism to enjoy the Lord's Table for the first time in that village.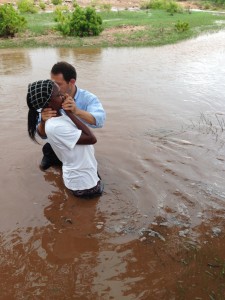 Then we all made our way to what was now a fast-flowing, broad, yet shallow river where I was told repeatedly there are no crocodiles. They sang one of the songs from the morning, "Heart, Soul, and Body" a song of dedication to Christ while I baptized the 9 new members of WBC which included both Jastone's and Justice's wives.
Both of these men chose to live in these poor villages. They could at any time return to South Africa and search for jobs which would allow them to live in significantly greater comfort. But for the sake of the church which He purchased, for the glory of God seen in the slowly changing lives of the new believers, for love of those souls whose only end is eternal torment without the message of the gospel, for hope that a slow, steady ministry will produce fruit that endures into eternity, these brothers and their wives live and minister in a place that would be too difficult for most Western missionaries.
Seeing the new believers take the bread and the juice along with Alpheus, Caleb, and I reminded me with bracing force that what I was seeing was the Great Commission being fulfilled. Missions is that which labors to leave a body of believers in those desperately hard places. Outside of a miracle, it cannot be done in a short time. It cannot be done without intentional Bible teaching and patient discussions. It is generally small groups of believers who have been won over a significant period of evangelism. It does not despise children's ministry. And as I experienced it again this weekend, it is powered by the glory of God's sovereignty and grace.
On the way home, Alpheus and I spoke about the comfort we had taken from seeing this new body of brothers and sisters. If Jastone and Justice can provide for their own needs as tentmakers while evangelizing in the rural areas, then it can be done again and again in the many thousands of villages.