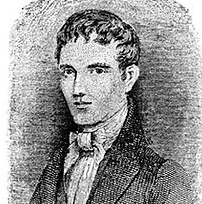 Scripture is filled with godly men and women who lived and served faithfully, yet they remain virtually unknown. Ahijah, Iddo, Azariah, Oded, Micaiah, Huldah, and several others whose names aren't even listed were godly prophets. George and Sarah Boardman are practically unknown today, but they were giants in the faith. They modeled Revelation 12:11: "…they did not love their life even when faced with death." Listen to the audio biography (56 minutes).
Sources:
Stuart, The Three Mrs. Judsons, pages 115-216.
Anderson, To the Golden Shore, pages 380-440.
Tucker, From Jerusalem to Irian Jaya, pages 130-132.
Neil, A History of Christian Missions, pages 294-295.
Thesis
Evangelism is more important than health or safety.
A Gifted Young Lady
1803 Sarah, the oldest of 13 children, was born into a poor home where her parents' poverty forced her to work hard.
In her journal as a young girl she wrote, "My parents are not in a situation to send me to school this summer, so I must make every exertion in my power to improve at home." Stuart 123
She taught herself Latin, geometry, logic, and rhetoric.
Several who knew her as a girl said that one main quality marked her life: a quiet self-restraint.
"Her mind had been early trained and disciplined in that noblest of all schools, the school of adverse fortune." Stuart, 123
1816 By 13 years old, she was already writing graceful and warm poetry.
In a letter to a friend, "How can I be so inactive, when I know that… millions in other lands are at this very moment kneeling before senseless idols!"
Even before her conversion, she was interested in missions, but afterwards, she guided her life by missions.
1820 She was converted and baptized at 16 years old.
Excerpt from her poem, "Come Over and Help Us"
Ye, on whom the glorious gospel,
Shines with beams serenely bright,
Pity the deluded nations,
Wrapped in shades of dismal night;
Ye, whose bosoms glow with rapture,
At the precious hopes they bear;
Ye, who know a Saviour's mercy,
Listen to our earnest prayer!
See that race deluded, blinded,
Bending at yon horrid shrine;
Madness pictured in their faces,
Emblems of the frantic mind;
They have never heard of Jesus,
Never to th' Eternal prayed;
Paths of death and woe they're treading,
Christian! Christian! Come and aid!
By the Afric's hope so wretched,
Which at death's approach shall fly;
By the scalding tears that trickle
From the slave's wild sunken eye;
By the terrors of that judgment,
Which shall fix our final doom;
Listen to our cry so earnest;
Friends of Jesus, come, oh, come!
She has a verse on Islam and Hinduism as well.
A Gifted Young Man
1823 James Colman, Baptist missionary in Burma, died and calls rose from Baptist churches to send another man to replace him.
At 19 years old, Sarah wrote a poem about Colman's life and death.
A 21 year old son of a pastor, George Boardman read the poem, and purposed to meet the author.
George was a tall young man who loved to learn so much that he would go to school even when sick.
1817 He became a school teacher at 16 years old.
1819 He entered college at 18, but is not yet converted. The entire student body commits to pray that God will save him.
1820 God opened George's eyes at 19 years old and he is then baptized.
Immediately he turned his thoughts towards missions.
The president of the college where he was a student was so impressed by this young man that he predicted George would lead the school one day.
To Burma
1825 George and Sarah are married at 24 and 21 years old.
The day after their wedding, they left for Burma.
In his journal he wrote, "Welcome separations and farewells; welcome tears, welcome last sad embraces; welcome pangs and griefs; only let me go where my Savior calls and goes Himself; welcome toils disappointments, fatigues and sorrows; welcome and early grave!"
A newspaper published that George would probably die very soon because his body was weak.
While on the boat to Burma, Sarah writes that "trials, and even persecution often develop the power of Christian principle and the strength of religious faith; while ease and outward prosperity seem to lull the souls of believers into an unworthy sloth and a sinful conformity with the world around them."
Before she arrived at Burma, she writes a lengthy letter to her brother: "My brother, have you a heart to pray to God? Have you repented and turned to Him? Or are you careless and indifferent respecting your precious soul? … You must stand before a righteous God at the judgment day. What will be the state of your soul if Jesus is not your friend? Think of this."
1827 When they arrive in Burma at 27 and 24, they have a little girl, the first of three children.
Their First House in Maulmain
1828 In January, they moved about 50 k's from the other missionaries to Maulmain.
Their new home was made of bamboo and could easily be cut open with a machete.
They were robbed by a band of armed thugs late at night in this dangerous location and house.
Upon seeing that her husband and child were safe she wrote, "I quite forgot the stolen goods, and thought only of the treasure that was spared. … If ever the world appeared to me worthless as vanity, and if ever I wished to dedicate myself, my husband, my babe, my all, to our great Redeemer, it was at that time."
This was only one of numerous dangers including a massive forest fire, snakes, and tigers.
Ministry with the Karens
They move again about 250 k's to Tavoy, and a 50-year old new convert, Ko Tha Byu, moved with them.
Ko Tha Byu had previously been guilty of at least 30 murders, but since Judson led him to Christ, he has helped the missionaries.
In Tavoy, they engage to evangelize the unreached Karen people.
The Karens worshipped a single God whom they call "Yuwah."
They believe the one true God had spoken to them and made them poor and miserable because of their sin. He had given a message to them, but they had lost it, and now they must wait until the message returns to them.
George wrote, "Their whole [religious] system has a tendency to cramp their intellectual powers.
They were accustomed to believing without evidence, denying regardless of sense experience, and attributing causes without good reason. Stuart 196
The Burmese call these people wild, ignorant, and savage. The Karen people had long been slaves of the Burmese.
One of their songs:
When the Karen king arrives
Everything will be happy;
When Karens have a king
Wild beasts will be tame. Stuart 153
Sickness returns
1829 Both George and Sarah are violently ill.
Upon recovery, George prepares a 3 week trip into the jungle to evangelize the Karen people; Sarah is left in the hut with 2 infants.
In another letter at this time she wrote, "Some of these poor Burmans, who are daily carried to the grave, may at last reproach me and say, 'You came, it is true, to the city where we dwelt, to tell of heaven and hell, but wasted much, much of your precious time in indolence while learning our language. And when you were able to speak, why were you not incessantly telling us of this day of doom, when we visited you?'"
George wrote in his journal, "We considered ourselves worthy to be trodden under foot of men, and were astonished to think of our pride and selfishness. … We were filled with the most distressing views of our utter sinfulness in the sight of God."
Then their baby girl dies at 2 years and 8 months.
Then the Burmese revolt against the British and suddenly bullets are flying through their hut.
During all these weeks and months, George is evangelizing with Ko Tha Byu among the Karen people.
1830 George's sickness returns and Sarah sees that he will be dead in a few more months.
As George is recovering, Sarah and her second child are then attacked by disease and only the mother recovers.
"Both of these devoted missionaries knew, however, that the best defence against such trials as they endured, is found in a steady performance of duty. … How different from those who make a sot of merit of 'indulging the luxury of grief;' and show their regard for the memory of the dead by neglecting their duties to the living!" Stuart 172
To his family in America from his deathbed he wrote, "A perfectly right action, with perfectly right motives, I never performed, and never shall perform, till freed from this body of sin. An unprofitable servant, is the most appropriate epitaph for my tombstone." Stuart 174
Revival among the Karen
George and Sarah took a three-day hike with George being carried on a bed into the jungle.
There they saw scores of Karen believers testifying and being baptized.
The change was nothing short of a miracle considering that three years earlier the entire people group had been degraded in ignorance and false religion.
The trip satisfied George deeply and he had no regrets though he anticipated that the extra strain hastened his death.
Both he and Sarah assumed that missionary service meant a shorter life.
After the baptism service, he addressed the believers in a weak voice pleading with them to persevere so that they would see each other in glory.
During the hike back to their home, a heavy rain drenched him, and they were forced to beg for housing with the Burmese.
However, the Burmese would not permit them to enter the house since they were teachers of the new religion.
On his death, Adoniram Judson wrote, "One of the brightest luminaries of Burma is extinguished, dear brother Boardman is gone to his eternal rest. He fell gloriously at the head of his troops, in the arms of victory, thirty-seven wild Karens having been brought into the camp of our king since the beginning of the year, besides the thirty-two that were brought in during the two preceding years."
Judson had waited 6 full years for his first convert, and Boardman had seen 10 times that numbers in 4 years.
By his death in 1831, Boardman saw 70 Christians, mostly Karens.
By the 1850's, the church counted more than 10,000 members.
By 1980, 150 years after the beginning of his preaching, there were 100,000 Christians among the Karens.
Sarah without George
Judson wrote to Sarah, "I can assure you, that months and months of heart rending anguish are before you, whether you will or not. I can only advise you to take the cup with both hands… You will soon learn a secret, that there is sweetness at the bottom."
A few weeks after her husband passed away, she was teaching 80 Karens who came to her house with 20 new candidates for baptism.
Rather than take her only remaining child and return home to America, she filled her schedule with evangelism and translating.
Sarah administered and taught in Karen schools as well as traveling through the jungle evangelizing with her 7 year old boy.
Sarah with Adoniram
For three years, Sarah served the Karen people until Judson came to visit her.
1834 Four days later, the 30-year old Sarah was joined to the 46-year old Judson.
"She was altogether different from Nancy—calmer, less dominant, with less fire, but perhaps more glow." Anderson, 413
11 children were born to Sarah, 3 to George and 8 to Adoniram, but only 7 lived to adulthood.
Sarah learned Burmese when she arrived, and then Karen to reach that tribe. Eventually she added Taling in order to translate the catechism.
While mothering 8 children to Adoniram over 10 years, she wrote Burmese hymns, a children's curriculum, and translated part of The Pilgrim's Progress.
She sent away her first son to be educated in America, but God answered the dying prayers of George Sr. by making George Jr. a godly pastor long after his parents were dead.
1845 Before her 42nd birthday with seven of her 11 children still alive, Sarah passed away in the loving arms of her second husband.
Eventually, 3 of her sons would become pastors, one a doctor, one a soldier (in the US Civil War), and her daughter a teacher.
Lessons from the Boardmans
Biblical view of death
Urgency in evangelism
The necessity of genuine spirituality to Christian ministry