Having compared and listed the virtues that the NT presents as being dominant in the Christian life, here are the largest lists of sins in the NT compared to demonstrate the kind of life that marks those who are outside of Christ.
Since I am not skilled with design, I will just post the chart in three different ways, screenshot, cut and paste, and PDF. A few brief observations and conclusion are below.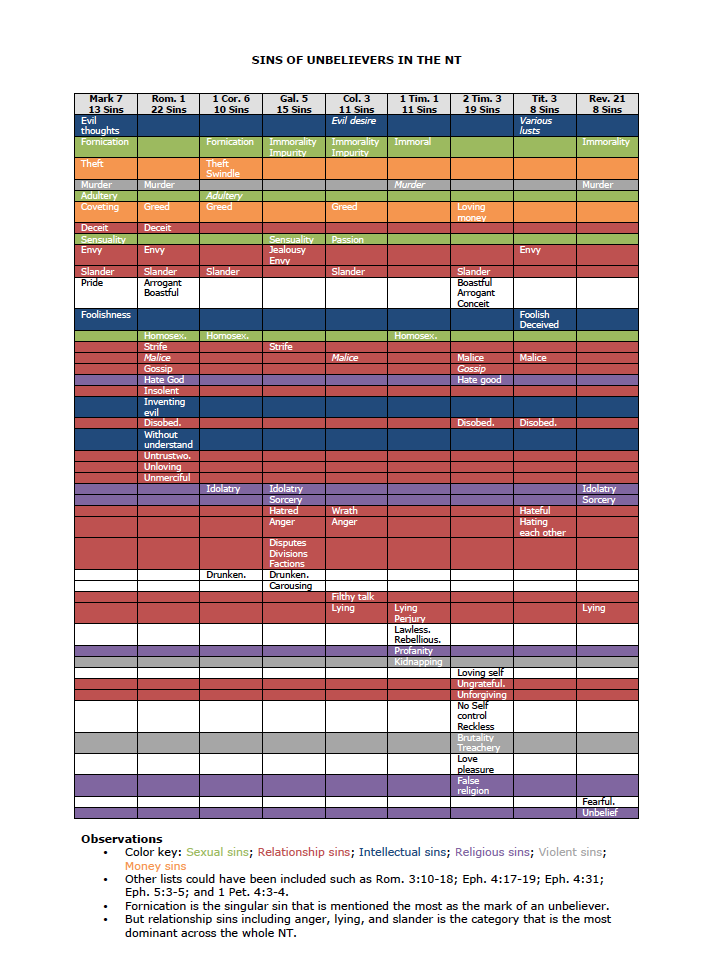 Mark 7
13 Sins
Rom. 1
22 Sins
1 Cor. 6
10 Sins
Gal. 5
15 Sins
Col. 3
11 Sins
1 Tim. 1
11 Sins
2 Tim. 3
19 Sins
Tit. 3
8 Sins
Rev. 21
8 Sins
Evil thoughts
Evil desire
Various lusts
Fornication
Fornication
Immorality Impurity
Immorality Impurity
Immoral
Immorality
Theft
Theft Swindle
Murder
Murder
Murder
Murder
Adultery
Adultery
Coveting
Greed
Greed
Greed
Loving money
Deceit
Deceit
Sensuality
Sensuality
Passion
Envy
Envy
Jealousy Envy
Envy
Slander
Slander
Slander
Slander
Slander
Pride
Arrogant Boastful
Boastful Arrogant Conceit
Foolishness
Foolish Deceived
Homosex.
Homosex.
Homosex.
Strife
Strife
Malice
Malice
Malice
Malice
Gossip
Gossip
Hate God
Hate good
Insolent
Inventing evil
Disobed.
Disobed.
Disobed.
Without understand
Untrustwo.
Unloving
Unmerciful
Idolatry
Idolatry
Idolatry
Sorcery
Sorcery
Hatred
Wrath
Hateful
Anger
Anger
Hating each other
Disputes Divisions Factions
Drunken.
Drunken.
Carousing
Filthy talk
Lying
Lying Perjury
Lying
Lawless. Rebellious.
Profanity
Kidnapping
Loving self
Ungrateful.
Unforgiving
No Self control Reckless
Brutality Treachery
Love pleasure
False religion
Fearful.
Unbelief
Observations
Other lists could have been included such as Rom. 3:10-18; Eph. 4:17-19; Eph. 4:31; Eph. 5:3-5; and 1 Pet. 4:3-4.
Fornication is the singular sin that is mentioned the most as the mark of an unbeliever.
But relationship sins including anger, lying, and slander is the category that is the most dominant across the whole NT.
Conclusion
Sexual sins, anger, and sinful words are the great dangers for a Christian. These sins specially mark the world, and they should not even be named among us for it is disgraceful even to speak of such things.